The Presidential Villa of the Presidency; Jubilee House – Accra on Saturday; October 9, 202, witnessed a rare event in its history; a marriage ceremony between the Akufo-Addo family of Kyebi in the Eastern Region and the Jumah family of Antoa in the Ashanti Region.
Edwina Nana Dokua Akufo-Addo, a 37-year old daughter of President Nana Akufo-Addo, was customarily blessed to go into a marriage with Duke Kwabena Jumah, one of the two sons of Maxwell Kofi Jumah of GHIHOC Distilleries Company Limited.
Only a few family and friends of the two sides, were allowed to grace the special occasion, and danced to live band music.
The Herald's information is that the Jumah family was led into the President's official residence inside the Presidential palace by Maxwell popularly called "Kofi Ghana" for what some said was a mere "knocking" ceremony which was to seek permission from the lady's family to marry her.
But videos and pictures from the event, show that the event went beyond the "knocking" to what looks like a traditional wedding ceremony which saw the Vice-President, Dr. Alhaji Mahamudu Bawumia and his wife, Samira in attendance and joined the President and the First Lady; "My Beautiful Rebecca", on the dance floor in bodily movements which were rarely in consonance with the music.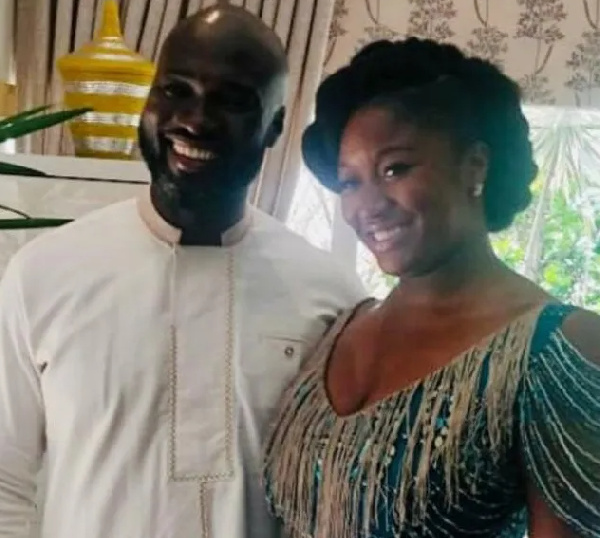 But Maxwell Jumah, who is said to have repeatedly boasted of his blood relations with Akufo-Addo's Chief of Staff, Frema Opare, hence his untouchability, the same way he has been bluffing about his womanizing prowess, has a lot of work to do and boast about with this marriage into the Akufo-Addo family by his son.
Many are yet to be convinced that this union is beyond pregnancy, the quest for political connections, power, influence, access and money to true love for the flamboyant Edwina Akufo-Addo.
Already, Kwabena Jumah, himself, just like his dad, has been in the news around GHIHOC, with the workers accusing him of driving a company car fueled and maintained by the state-owned company without being a staff.
Akufo-Addo's son in-law, was also mentioned to be behind a "questionable" contract in which GIHOC is manufacturing products for another company it is supposed to be competing with; Kasapreko Company Limited (KCL), manufacturer and producer of alcoholic and non-alcoholic drinks.
As a result of his activities, GIHOC staff claim they are unable to produce enough products to meet market demands, only taking "peanut rate" from Kasapreko, and the bigger beneficiary remains Kwabena Jumah and perhaps, his father, Kofi Jumah.
Again, Dokua's husband, is said to have been married to a Jamaican lady with whom he has three kids currently and living in Newark - New Jersey, where the GHIHOC boss lived with his wife and mother of his four kids for years, until their marriage hit the rocks.
The Herald is digging into reports claiming that Kwabena, has had some troubles with the law enforcement in the US and banned from traveling out until two years ago, when his well-connected dad; Kofi Jumah, asked him to come to Ghana to rehab and better his life.
Interestingly, his Jamaican wife, is meanwhile reported she won't give him a divorce; at least two months before this wedding. Family sources can't tell what finally happened in that marriage ahead of last Saturday's event in Ghana.
Maxwell, 73, a former Mayor of Kumasi, as well as a Member of Parliament for the Asokwa Constituency in the Ashanti Region, aside issues about his age, has lately been under pressure from GHIHOC workers over his management style at the state-owned industry.
At a recent durbar of workers, Maxwell who had passed the constitutional retirement age of 60, insultingly boasted about being a womanizer, literally telling his subordinates to "clear off" (fuck off).
Some concerned staff of GIHOC according to MyNewsGh.com, had incessantly alleged that Maxwell, their Managing Director is the most corrupt appointee of President Akufo-Addo and have expressed shock that a 73 year old grandfather, will unashamedly say he is rather a womanizer.
Further allegations were that, looting at GIHOC is an open secret. Company insiders alleged that Kofi Jumah sacked the Security Company managing GIHOC for being "too strict". In their place, he appointed individual security men loyal to him, who look the other way when looting is taken place.
Attempts by Mr Jumah to organize some "sycophant" staff to speak for him were said to have backfired, leading to him reacting to some allegations against him without being specific.
In his response, he said he was a womanizer, but not corrupt.
He was reported as "the only managing Director in the history of the company to have terminated the contract of a security service company and appointed individuals in his own capacity to provide security services to the company so they have absolute control over the security in order to loot." Part of a staff statement said.
The Jumah kids, appear to have a taste for power and access to resources.
One of Jumahs daughters, Linda O. Jumah, is married to Ras Baraka, the 40th and current Mayor of Newark. Her company, Elite Strategies, was about five years ago, indicted for receiving some US$65,000 from the mayor's campaign fund. Ms. Jumah pleaded guilty to federal tax evasion charges.
Many government officials as well as New Patriotic Party (NPP) insiders did not envisage a marriage between the Jumah family and the Akufo-Addo family, as Kofi Jumah, a former Deputy Minister of Local Government and Rural Development in the Kufour administration, in the run-up to his party's election for the 2016 Presidential Election, cautioned Ghanaians against Nana Akufo-Addo, and insisted he will be a "terrible president" in the history of this country.
The former mayor for Kumasi, insisted that it won't take more than three weeks for a Nana Akufo-Addo led-government to be overthrown through a coup d'état, hence Ghanaians should not look to his direction for a new leader in the 2016 polls.
Jumah, who supported Alan Kyeremanten at the time, later confirmed on Asempa FM on June 11, 2015 that he actually said it and a voice captured on the tape was in fact his.
Mr Jumah, has since been kept in office by the "terrible president" despite the constitutional requirement on him not to be in office beyond 60 years.