Farmers in Okorase, Domeabra and Mmetiamu and its surrounding communities in Akuapem- North Municipality in Eastern Region on Wednesday demonstrated over a collapsed wooden bridge which connects 12 communities to market centres in Okorase and Suhum.
The wooden bridge was constructed in 1808 by the Swiss missionary and civil engineer, Jacob Isliker, on behalf of the enterprising pioneer cocoa farmers who migrated from the Akuapem Mountains to establish the early cocoa farms around the river at the cost of £1,680, collapsed two weeks ago.
According to the aggrieved farmers and residents, they sent petitions to the government and Akuapem-North Assembly about the poor state of the bridge which needed replacement but was not attended to until it collapse which has cut off the communities.
The farmers are stranded while their foodstuffs are rotting. Pregnant women are unable to attend antenatal care while pupils are equally stranded. Three school children who attempted to swim the river nearly drowned but for the timely rescue.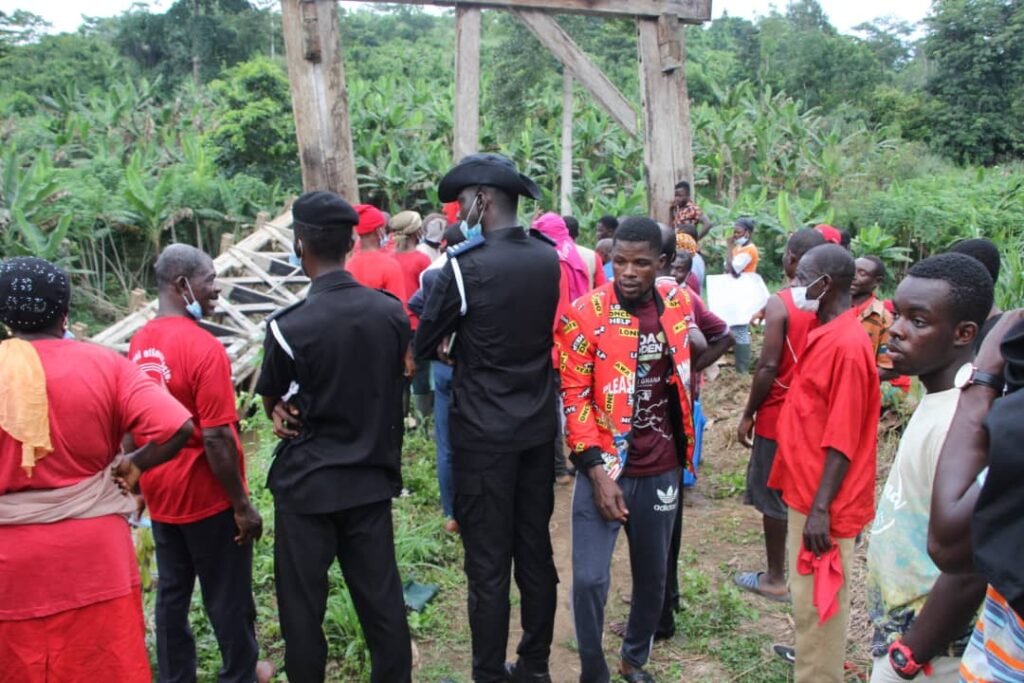 Nana Oye Asiwaa Apem, the Queen-mother for the Okorase area, said "since this bridge deteriorated I have sent a lot of petitions to the Presidency. There is no response. We have not heard from any government official. Just last two weeks the bridge collapsed food can't come to people who were here since the bridge collapsed could not go back. Children cannot come to school. Health workers here can't cross. They are left behind. This morning we decided to demonstrate to tell the President about our grievances. All foodstuff are being left there -Cassava, Cocoa, Plaintain and so on. Pregnant women can't cross to attend antenatal. Aged people cannot cross. In fact, it's bizarre".
Charles Adu Asinor Assemblymember for Okorase and his colleague Ransford Norvol Assemblymember for Koransang Electoral under Suhum area said this should be treated as an emergency.
"This is an emergency situation that we want the government to attend to provide something temporal. Honestly, you can see from behind that there are a lot of foodstuffs behind us like cocoa, plantain, they need to transport to the market. So it is a big issue now the pressure is coming to me so government should come to our aide "
"About 12 communities around this area, there is no school so the only school here is in Okorase so all those villages the children are still home, they don't have any access to school. The only access is this footbridge so there is no alternative to attend this school. So we need a concrete bridge".